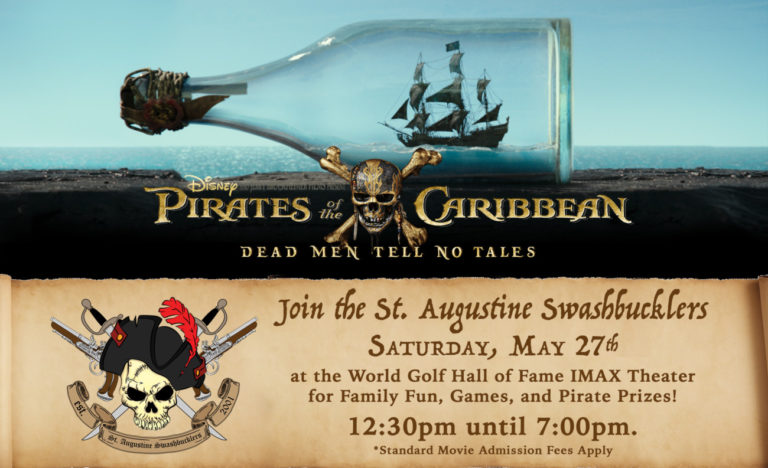 St. Augustine Swashbucklers & Pirates of the Caribbean
0
744
The newest IMAX Hollywood film, Pirates of the Caribbean: Dead Men Tell No Tales comes out in theaters on Saturday May 27!
Do you want to meet some pirates? Come out to the IMAX Theater at the World Golf Hall of Fame on Saturday, May 27th from 12:30pm – 7:00pm to hang with the St. Augustine Swashbucklers. They will be visiting with guests, playing games, and shoot off a pirate cannon.
If you miss the pirates on the 27th, come back by on Monday, May 29th and join the Swashbucklers in the theater for the 7:15pm showing. For more information, visit www.worldgolfimax.com.
Thrust into an all-new adventure, a down-on-his-luck Capt. Jack Sparrow finds the winds of ill-fortune blowing even more strongly when deadly ghost pirates led by his old nemesis, the terrifying Capt. Salazar, escape from the Devil's Triangle, determined to kill every pirate at sea including him. Capt. Jack's only hope of survival lies in seeking out the legendary Trident of Poseidon, a powerful artifact that bestows upon its possessor total control over the seas.
Event Tags: