Parents and Teens, Can You Conquer This Distraction?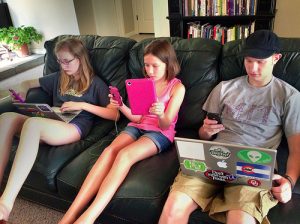 "He's constantly looking at that phone!"
As an Academic Coach I hear about and see all too often the effects that cell phones have on families with teens. While in sessions with students I see the notifications come through on their smart phones and computers. Their eyes wonder and then come back. They have to re-focus on our discussion.
Personally, I find it difficult to stay focused with all the distraction from technology. I get tons of notifications all throughout the day popping up on my computer and cell phone. It's very distracting when you are trying to work on a project or send an email. The notifications make you lose your train of thought easily.
How do we deal with this crazy tech habit of constantly looking at our notifications?
Turn off ALL notifications! You can manage your notifications in the settings area of your phone.
I have already started doing this and feel so liberated. I encourage everyone in the family to free yourself from these nagging apps!
Parents can get what they need done with less distractions. Teens can accomplish homework faster. Imagine all the time you will have! You will become efficient at accomplishing what you want to get done.
Give it a try. What have you go to lose?