2017 Halloween Themed Races and Fun Runs in Jacksonville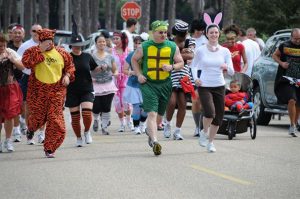 It's finally beginning to cool off on the First Coast and that means it is perfect weather for running. Luckily, we live in an area where running is popular and there is no shortage of events to choose from. Get your costume ready! This October there are heaps of fun running events in the Jacksonville area that include monsters, zombies, pumpkins, and more. A lot of them are raising money for some great causes too. Register the whole family and have some fun!
---
Celebrate October with this 5k & 10k. 15% of each registration is donated to the National Network to End Domestic Violence in honor of it being Domestic Violence Awareness month. You will love the medal! Complete your run anytime in October.
---
October 7th, 2017       5:30pm to 7:30pm
The Blacklight Run™ is none other than the brightest, most fun 5K out there. At the Blacklight Run™ we aren't focused on how fast or how far you can run, what type of exercise you enjoy, or if you're an avid runner. We don't care if you've never run a day in your life! Instead, we welcome any and all participants looking for a glowing good time. Whether you sprint it, run it, or walk it, it doesn't matter to us! We simply want you to enjoy it. These three miles will be the best three miles you've ever spent with your friends and family—we promise.
---
October 14th, 2017      8:00am to 10:30am
Join us for a 3.1 mile run or a Vampire Mile fun walk/run through the Nocatee neighborhood for a haughtingly good time this October! The Jacksonville Creepy Crawl 5K & Vampire Mile is a signature HFGF event to raise money for the Florida bleeding disorder community while bringing the bleeding disorder community and their supporters together for a fun morning of camaraderie!
---
October 20th, 2017      6:00pm to 8:00pm
Imaginations will run wild' on Friday evening, Oct. 20 at the annual Monster Mash Dash benefit race for Community PedsCare®. Costumes are encouraged for this 5K, where children and families can enjoy food, fun and live entertainment.
Participants can choose from the 5K, a one-mile Fun Run and a Diaper Dash.
Special thanks to the Wise Family Foundation for its support of Monster Mash Dash and Community PedsCare!
---
October 21st, 2017      9:00am to 12:00pm
Unleash your inner Superhero and run, walk or stroll in support of the kids at Mainspring Academy, an exceptional school for exceptional students!  Grab your superhero costume, cape and mask and come out in support of our students and educators!  All ages and abilities are welcome. It's sure to be an exciting event!
All proceeds from the 4th Annual Superhero 5k & Mile Fun Run will directly benefit students at Mainspring Academy. Mainspring serves students ages 5-22 with a variety of challenges including Autism Spectrum Disorders, Down Syndrome, Speech/Language Disorders, ADHD, and Anxiety Disorders, to name a few.
---
October 22, 2017       7:30am to 5:00pm
The Kids Fitness Zombie Chase is back!! And this year, we've added an all ages 5k !
It's true…we've got 'em….Zombies in Jax! Don't miss the most anticipated Halloween running event in town.
First, at 7:30am it's an all ages, living or undead 5k. Zombie attire is totally optional!  Cash prizes  for top finishers.  Fantastic age group awards from Sports Recovery Annex  and Rebounderz!
At 9am it's our  famous Kids Fitness Zombie Chase! Kids ages 4-15 run from zombies. Parents and siblings 16  and up ,YOU are the zombies! It's just under a mile of silly and sometimes scary fun! Parents you can also register to be a bodyguard and stay with your child along the course.
---
October 29, 2017      8:00am to 12:00pm
Participate in the 5k or 10 mile race around the Evergreen Cemetery. The part of the course inside the cemetery is lined with pumpkins.Take a pumpkin home after the race! The course runs through stately oak and magnolia trees and is about 90 percent shaded. All miles and turns will be marked, with digital clocks at most miles.
A $50.00 1st Place Sports gift card will be given to the runners wearing the best costume in the following divisions: Scariest Costume, Funniest Costume, and Best Overall Costume.