Back to School: Guide to Events on the First Coast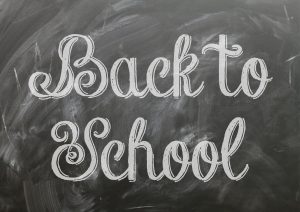 1st Day of Class for Students
August 10th – Nassau and St. Johns County
August 14th – Duval County
August 15th – Clay County
August 2 – 5pm to 9pm
Gear up for Back to School at Art Walk with Fun 4 First Coast Kids! Taste free samples of Elmhurst 1925 nut milks, and cool down with a gourmet The Hyppo popsicle. Come check out over all the Back to School vendors.
August 4th-6th, 2017
The 2017 Back-to-School Sales Tax Holiday was passed by the Florida Legislature and signed into law by Governor Rick Scott. This sales tax holiday begins at 12:01 a.m. on Friday, August 4, 2017, and ends at 11:59 p.m. on Sunday, August 6, 2017.
August 4th-6th – 9am to 9pm
Take a break from tax-free shopping in our Tax-Free Weekend Shopper Lounge. Enjoy ample seating, phone charging stations, TV's and receive the latest info on all the tax-free deals.
Lounge hours: Friday and Saturday 12:00 PM – 8:00 PM and Sunday 12:00 – 6:00 PM
Located between Bose and Banana Republic.
August 4th-6th – 1pm to 3pm
Back to School shopping starts at The Avenues! Shop all of the hottest trends and celebrate Tax-Free Weekend with our Back to School Fashion Show.
The Fashion Show features styles for all ages and teachers from Forever 21, Francesca's, Crazy 8, Windsor and many more! Enjoy giveaways and special offers throughout the show.
We are in search of models of all ages! If you or your child(ren) are interesting in modeling in the show, please fill out this survey: https://www.surveymonkey.com/r/FK3PYSX
August 4th – 9am to 9pm
Gather the whole family for a weekend of fun at St. Augustine Premium Outlets! Friday, August 4-Sunday, August 6 enjoy even more perks during the Florida Sales Tax Holiday. Giveaways and free stuff!
Plan ahead! To make sure you're snagging the ultimate deals, get the inside scoop on in-store sales and promotions: http://www.premiumoutlets.com/outlet/st-augustine/deals
August 4th – 7:30pm to 10pm
The Avenues is kicking off Back to School and Tax-Free Weekend with Movie Under the Stars on Friday, August 4, 2017! Bring the whole family to enjoy "Moana" in Center Court. Head phones will be provided for each attendee so "lei" back and enjoy the movie!
To reserve your spot, visit: https://www.eventbrite.com/e/movie-under-the-stars-tickets-35828265306?ref=estw
August 5th – 10am to 3pm
Everyone might be gearing up for school but there's still a ton of fun to have! Join Fun 4 First Coast Kids and so many more for a day full of live music, art and more at the Riverside Arts Market!
August 5th – 11am to 1pm
Come out to Whole Foods in Mandarin for some yummy samples. Help get your students' minds and bodies ready for school with our Fuel for School store-wide Tasting!
August 8th – 6 to 9pm
99.9 Gator Country invites you to their Back To School Party, Tuesday, August 8 at Whitey's Fish Camp, benefiting  Special Olympics Florida – Duval County and Special Olympics Florida – Clay County.
The party gets started at 6pm, and the first 99 kids (14 years old and under) get a free backpack. It'll be a great evening of fun,lots of prizes to be won, and enjoy live music from Nashville recording artist Jordan Davis.
August 12th – 9am to 12pm
The bash is back! Join us on Saturday, August 12th at the Jacksonville Fairgrounds from 9 am – Noon for our annual Back to School Bash! Free backpacks, school supplies and community resources will be available for students.
But that's not all – Several back to school giveaways are taking place all across Jacksonville leading up to the first day of school on August 14th. Check out our page here: HERE for details.
August 12th – 10am to 1pm
Join us for a free fun day full of prizes, school supply giveaway, and kid friendly activities. Special performance by Jacksonville Drumline and appearances by Jacksonville Jumbo Shrimp mascot and Florida Blue's very own Sunny. Free smoothies provided by Tropical Smoothie Cafe. Vision and hearing screenings provided. Balloon artist and face painter as well as child safety tips among other things will take place throughout the event. Call 904-394-2250 for more information. Held at the Florida Blue Center in North Jacksonville near the airport. All are welcome to this FREE event.
August 12th –  1pm to 4pm
Come out to Skate Station in Mandarin and have some fun before going back to school. Admission is $6.
August 19th – 1pm to 3:30pm
Join us for a Family Night Out to ring in the new school year! We will have food, live music, raffles, crafts, lesson demos and more! Come take a tour of our school, learn about our new classes offered in the fall, and jam out with some of the best musicians in town! This is a great way to wrap up the summer and get excited about the school year. This is an all ages event, we have something for everybody!
August 25th – 7pm to 7pm
Come out to Skate Station in Mandarin and have some fun with friends. Admission is $27.Enjoy skating and listening to music all night long.