Hurricane Preparedness Guide for First Coast Families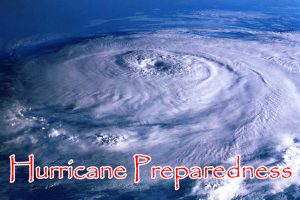 Tis the season for hurricanes. Remembering how last year's Hurricane Matthew affected the First Coast and in the wake of Hurricane Harvey we are all watching Hurricane Irma closely in Jacksonville. Watching the news 24/7 is not going to make Hurricane Irma travel any slower and it's not going to make you feel less anxiety. What can you do? Be mindful of how much news you expose your children to and what you say in front of them so as not to cause worry. Now is the perfect time for a family meeting and talk to your teens and younger children about what's going on and what might happen.
Don't Hit the Panic Button! Now is not a time to panic. People are rushing to stores and gas stations. Friends, neighbors, co-workers, etc. are talking in a panicky like way about the hurricane. People get worried when those around them express worry. Parents, now more than ever is a time when you can model how to be calm, cool, and collected. If you're teen comes home from school with anxiety about the hurricane talk to them in a calm manner. Ask them what their concerns are and address them together. Try to focus on the present. The family is together and safe right now. Deal with issues as they arise.
Calm the mind: Turn off the news! Try a meditation together. A simple 5 senses meditation can relieve worry and anxiety. It can help focus the mind on the present and alleviate stress. Another simple meditation is counting down from ten while calmly  focusing on your breath. Practice breathing together. Apps like Breathe and Insight Timer are great for meditation.
Drivers beware: During an emergency such as a hurricane people tend to drive unfocused, nervous, and reckless. If your teen drives alone please talk to them about being on high alert during this time.
Gather supplies. Together make a list of the supplies you need. Have your teen take an active role in this process by helping with creating a list and gathering supplies. Click HERE for the Jax Ready Do It Yourself Emergency Kit. Click HERE to download The City Of Jacksonville's 2017-2018 Preparedness Guide.
Create a family evacuation plan. Everyone in your family should know who goes with who, where they'll be going, and what things will be brought. Click HERE for info about Duval evacuation information. Be prepared so if an evacuation is called, you and your family can quickly assemble, pack up your pre-agreed critical belongings and leave.
Preparing your home: See some of the resources below for great tips on how to prepare your home. The Red Cross, Ready.gov, and FEMA have great advice for hurricane season. Take pictures of your home inside and out. If the hurricane is close fill your bath tubs and ready generators in case of power outages. Read more from resources below.
Resources
Red Cross: How to prepare for a hurricane
Ready.gov's Hurricane Preparedness Guide: Before , during, and after
FEMA: How to Prepare for a Hurricane