Jacksonville Family Reflects on the Teenage Years
The teenage years are challenging for both parents and teens. The physical, emotional, and intellectual growth can cause everyone stress and anxiety. This Jacksonville family discusses growing up in Jacksonville, their experience with the teen years, and offers some advice to other parents and teenagers for surviving the teenage years.

Parents: Jeremy & Tammy Toton
What high school did you go to? What is one of your favorite memories about high school?
Tammy & Jeremy both attended Terry Parker High School in Jacksonville, FL.
Tammy: My favorite memory about high school is passing notes back in forth with friends between classes, going off campus out to lunch, meeting Jeremy in gym class, hanging out with friends at our lockers in between classes, pep rallies.
Jeremy: My favorite memory of high school is marching band, football games and meeting Tammy.
What do you do now?
Tammy: I am the Chief Compliance Officer for a local financial planning firm.
Jeremy: I am a Surety Agent for my Mother's business. I plan on taking over the business when she retires next year.
What kind of rules did you have in place for your daughter when she was a teenager?
We were strict parents. She will tell you that we were the strictest. She was not allowed to wear makeup until 9th grade. She was not allowed to have a cell phone until 8th grade only due to her sports activities. She had a curfew when she was in high school. She was not allowed to date until age 16. She had chores/responsibilities around the house with no allowance. However, if she wanted to be able to do something or go somewhere, she knew she had to get the chores completed. We had to know the details of where she was going (phone #, address, parents). She had to keep good grades to keep her driving privileges.
How did these rules change between 13-18? What happened if your daughter broke the rules?
I do not recall the rules changing much except maybe for the curfew. The older she was the later she was able to stay out. She had consequences. She was not able to do things she really wanted to do. Things were taken away if needed. Luckily, she really did not break the rules too often. We did our best to be consistent with our threats. If we said something was not going to happen, then it did not happen whether she pitched a fit or not.
What is one struggle you remember about raising a teenager? How did you deal with it?
The ATTITUDE. The high school friend drama. Well, we would always have talks with her. We would sit her down and let her know why what she did was wrong or how she handled it was unacceptable. We advised her how things should have been resolved. We did not sugar coat anything. We wanted her to know how the real world worked.
What advice do you have for parents raising teens?
Be nosey! Stay involved with them. Be patient. Remind them that you were once a teenager and know what they are thinking and dealing with on a daily basis. Ask them many questions. Praise them for even the little things they do correctly. They want discipline. Make sure you demand respect and lay down the rules. Stand by your rules and do not give in. They need structure, which means chores and responsibilities. Even when other parents allow their children to do certain things that you would not allow, do not let that be the basis of your approval. Always use the phrase, I do not care what other parents allow their children to do, I don't!
---
Daughter: Amber (23)
What high school did you go to? What is one of your favorite memories about high school?
I graduated from Bishop Kenny High School. I would say my favorite memory about high school was hanging out with all of my different groups of friends everyday. Another favorite memory was my senior year, doing all of the senior events throughout the year.
What is your major and how did you decide on your major?
I am in the Dental Hygiene Program at FSCJ. I decided that I wanted to be in dental field when I was 7 years old. I have always had a fascination with teeth and helping people have a smile they want to share with the world.
What is one or more major differences you notice between high school and college? Could be academic related, the people, etc. Did these differences affect you any major way?
I noticed that you don't have as many friends in college as you did in high school, just because people's lives change and every one goes their own separate ways. I've established a solid friend group that I want to have for the rest of my life. But then again, I know things can change going forward in my life. I am the type of person who can accept change and I haven't had a problem with having less friends because I know the friends I chose to still stay close with are genuine and true friends! As far as academics, high school is nothing compared to college. In college, its all on you, meaning if you want to succeed you have to actually try because professor are not going to chase you to turn in an assignment. You need to do your best if you want to get good grades, and not rely on anyone but yourself.
With regard to college what is one major struggle you have had and how have you dealt with that?
In my program, you have to dedicate pretty much all of your time to studying. I am in a relationship and I love to hangout with him and all of my friends, so it is a struggle when you need to study but also want to hangout with all of your friends. But school comes first, and I believe I juggle all of it very well.
What advice do you have for college freshman?
Enjoy your freshman year! Make friends, go to parties, but don't forget to focus on the task at hand: passing your classes and learning what you want to major in! Get used to juggling many things; use a calendar or agenda, that has saved me throughout college.
What advice do you have for seniors in high school?
DON'T GET SENORITIS! Don't think because you are done with high school that you can slack off. If you do slack off, it will definitely hurt your grades and college doesn't like bad grades and poor attendance, etc. Try your hardest and you'll thank yourself later. Trust me!
---
The Toton Family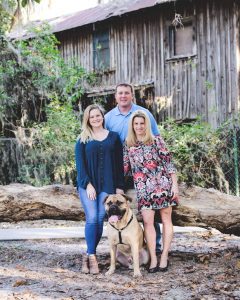 Tammy and Jeremy are Jacksonville natives who met in 10th grade at Terry Parker High School in their P.E. class and have been together ever since. They have been married for 22 years and enjoy working out five days a week, riding their Harley, spending time outdoors, and running 5k races around town. Their favorite things about Jacksonville, FL include the beaches, living close to their family, attending concerts, and exploring the various things to do in each part of town.
Amber, Tammy and Jeremy's daughter, is currently studying in FSCJ's Dental Hygiene Program and is expected to graduate in May 2018. Her current goal is to graduate and start her career as a dental hygienist. When she is not studying she loves hanging out with my family and friends. Amber enjoys being outside, going camping, taking road trips, listening to live music, cocktails and dancing, and she especially loves going to the movie theater! After living in Florida for her whole life, Amber would love to experience some new surroundings and see what else is out there. Once she gets established in her career she hopes to move to Tennessee where she can live near the mountains and see new things. Eventually, she would like to get married and have children, but she is in no rush. She wants to enjoy life and experience all that she can before settling down. One of Amber's favorite quotes that she keeps in the back of her mind is: " Accept what is, let go of what was, and have faith in what will be".