"The Daniel Difference"- Specialized Therapeutic Foster Care Program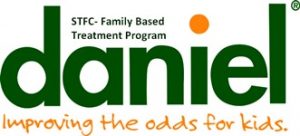 What makes Daniel Kids so different? Maybe it's the fact that we are the oldest child serving agency in Florida? Maybe it is because we hold the largest "Therapeutic Foster Care Program" in the state, or we have our own Adoption Hotline? These attributes surely make Daniel Kids special, but the true "Daniel Difference" is YOU!
When you hear the word "Specialized" you can't help but think of a person who is a master of their craft. Our Therapeutic Foster Parents have earned the right to be considered just that, specialized! We hold our parents to a greater standard by providing them 30 hours of intensive therapeutic training on top of the normal 30 hour P.R.I.D.E (Parent Resources for Information, Development and Education) training. After the trainings are over, we require our parents to continue their education yearly by completing training hours.
The children that we serve are ones who suffer from emotional and behavioral problems that make it impossible for them to be in traditional foster care. Generally, these children come from many failed placements before entering the program, as well as severe trauma that brought them into foster care in the first place. We combat these children's circumstances by working with a team of qualified therapists who bring the validity to the word "Therapeutic" in our program title. Depending on the "level (1, 2, or Crisis)" of the child, is the amount of time per week that a therapist spends in that home working with the child on meeting treatment goals. Therapists also work with our parents on relevant interventions to the child, providing support and balance to the home.
At Daniel, we are redefining "Foster Care" by bringing quality and support to our children and parents. Our goal is to have every child in our program be able to overcome the debilitating behaviors that prevent them from being function members of society. Please join our elite group of treatment parents and therapists to provide the best home-like setting for our most vulnerable children in foster care.
If you are interested in becoming apart of this exclusive group of foster parents please reach out to Alani Charles, Licensing/ Recruitment Specialist at 904-294-1905 for details and your pre-orientation screening.