First Florida Credit Union – Camp C.E.O. Financial Literacy Summer Camp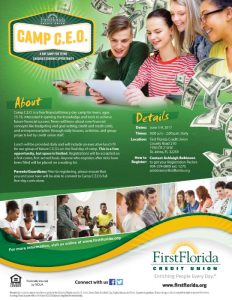 Sign up for Camp CEO, Our Teen Financial Literacy Camp
Give your teen the chance to hone his or her financial skills and knowledge at Camp CEO, our free financial literacy summer camp that will take place June 5 – 9 from 9 a.m. – 2 p.m. at our County Road 210 Branch in Jacksonville.
Camp participants will learn about core financial concepts, including:
Budgeting and goal setting
Building credit and credit cards
Entrepreneurialism
First Florida staff will provide lessons and activities that engage students and break down financial concepts in an easy-to-understand format. Camp participants will also work in groups to create a video project about a financial concept, which will be presented to First Florida senior management. Winners of the video contest and other daily activities will receive gift cards and other prizes.
The camp will conclude with a professional lunch with First Florida senior management, including a limo ride – a lunch fit for a group of future CEOs.
Lunch, daily instruction and T-shirts are included. Camp CEO is free for participants ages 13 to 16. Space is limited, and registration is first-come, first-served. Applications past the space limit will be placed on a waiting list.
For registration email Ashleigh Robinson at arobinson@firstflorida.org