College-bound with a GED(R)
As an adult educator, one of the most frequently asked questions I hear is this:
"Should I complete my standard high school diploma or get my GED(R)?"
When I began in this field in 2009, I undoubtedly would have given a resounding cry to get the standard high school diploma. However, everything changed with the 2014 revision of the GED(R).
The current graduation rate in Duval County, Florida, is approximately 79%, the lowest among the surrounding northeast Florida counties. Students not graduating with their cohort are eligible to enter into adult education programs across the state, including the one I teach for at Florida State College at Jacksonville. Although some adult education programs only offer GED(R) diploma options, our program is unique in that it offers adult basic education as well as standard high school diplomas and, of course, the GED(R). In addition to access to these academic programs, as part of the community college, students in various programs, such as Jax Journey, also have the opportunity to earn industry-recognized certifications in their career field of choice as they pursue their high school diploma or GED(R). This opportunity increases the likelihood that the student will be able to enter a living wage earning career upon graduation.
With earlier versions of the GED(R), students primarily went into the workforce or a trade school because the GED(R) was not widely recognized as a college-preparatory high school credential. However, the 2014 GED(R) changed all of that by including College Ready and College Ready + Credit designations alongside the already existing Pass. In most states, including Florida, students earning a 145 on all four subtests pass the GED(R). However, scores of 165 and above on any subtest carry a College Ready designation. Scores of 175 and above on any subtest allow the student to be eligible to receive college credit in that particular subject area.
In addition to having an equal footing when entering college, another benefit of taking the GED(R) over earning the standard high school diploma is that many students struggle to pass state testing. With regularly scheduled testing, retests, and ACT or alternate tests, some students have unsuccessfully attempted state-required testing to earn their high school diploma seven or eight times by the time they enroll in an adult education program. This repeated failure can be extremely disheartening and discouraging for many students. For some, it is a far better option to take the GED(R), a modern assessment that does not merely rely on multiple choice, as an alternative to state-required testing for a standard diploma.
As an instructor, I often share my thoughts on the comparison of these two options with students in hopes that they will choose the option that will more quickly help them earn their high school credential. Sometimes they choose to stay with the standard high school diploma and sometimes they don't. No matter which they choose, I will continue to help students reach their academic goals through high school credential completion for as long as I can. I have learned that it is wise to let someone discover for himself what options are best to help him reach his goals.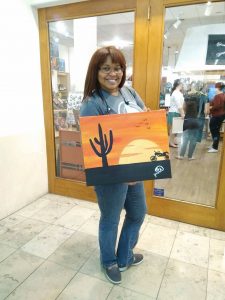 Jeniah Jones is a Professor of Adult Education at Florida State College at Jacksonville. She has worked in secondary education for the past 16 years, the last five of which teaching at FSCJ teaching Adult Basic Education, Adult High School, and High School Equivalency classes. She is currently pursuing a PhD in Psychology with a specialization in Integrated Learning, Cognition, and Technology.