Tips for Rising Juniors
Planning for college begins the moment you finish 8th grade. However, Junior and Senior year are the big years to start your to-do list and begin marking items off. ACT provides an accurate item checklist for Juniors.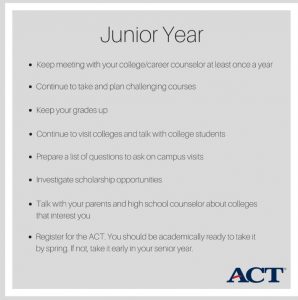 Some other tips that I would add are the following:
Take the PSAT in October to be eligible for the National Merit scholarship.
Take BOTH the ACT and SAT at least TWICE before the end of your junior year. Try not to begin senior year worried that your scores are not high enough and now somehow you have to fit retaking the exams somewhere in your busy senior year fall schedule.
Check that your volunteer hours are accurate. And continue to volunteer.
Begin building your college list.
Have a discussion with your parents about how you're going to pay for college. Are there limitations? If so, what are they?
Attend the local NACAC College Fair in your area. Every year in the fall the National Association for College Admissions Counseling has a HUGE college fair with over a hundred different colleges from across the U.S..
If you're planning a gap year start investigating what you'll do during that year. Colleges don't want to see that you just took a year off and did nothing. They want to see that you were at least working full time, volunteering or interning somewhere where you may want to work someday, or traveling with a purpose. Essentially, show colleges there was a point for you taking the year off.
Planning during junior year will prove fruitful for your senior year and will help you reduce the inevitable stress that happens. Allow yourself to have options of what you want to do after high school….dont wait til it's too late.
Photo courtesy of www.act.org